Peas have their special sweetness before anything is added to serve them. Maybe that's why I chose to combine them with piquant bits of tangy Swiss cheese and bacon, to make what's already good glorious!
Serves 6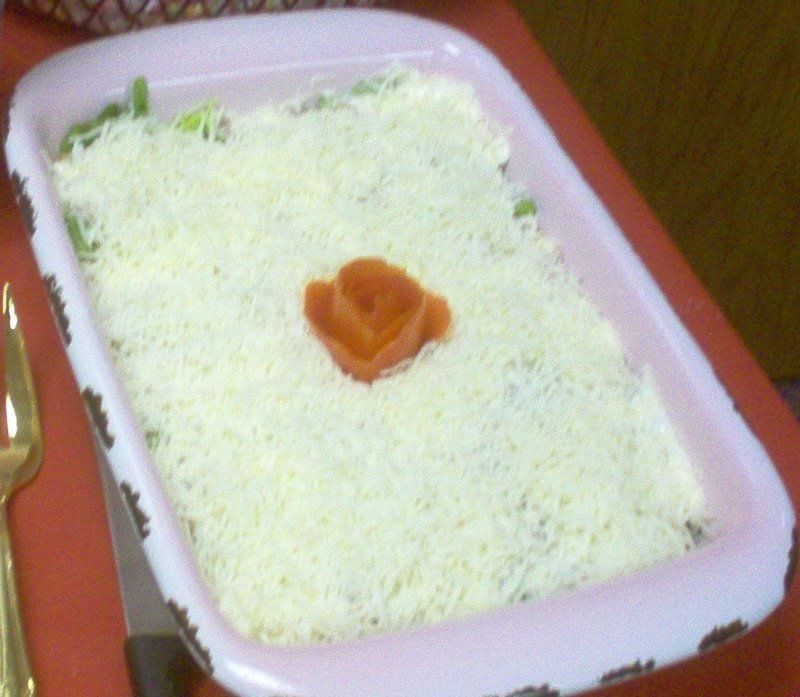 2 1/2 cups finely shredded lettuce
1/4 cup finely chopped onion
1 1/2 cups frozen peas, thawed
1/4 cup purchased real bacon bits
1/2 cup fat-free mayonnaise
2 tablespoons fat-free sour cream
2 tablespoons SPLENDA Granular
6 tablespoons shredded reduced-fat Chedder cheese
6 tablespoons shredded reduced-fat mozzarella cheese
Evenly arrange lettuce in an 8-by-8-inch glass dish. Layer onion, peas, and bacon bits evenly over lettuce. In a medium bowl, combine mayonnaise, sour cream, and SPLENDA. Carefully spread dressing mixture over top. Evenly sprinkle shredded Cheddar and mozzarella cheese over dressing mixture. Cover and refrigerate at least 2 hours or overnight. Divide into 6 servings.
Each serving equals:
HE: 1/2 Protein, 1/2 Vegetable, 1/2 Bread, 1/4 Slider, 17 Optional Calories
*************************************************************
108 Calories, 4gm Fat, 8gm Protein, 10gm Carbohydrate,
464mg Sodium, 115mg Calcium, 2gm Fiber
*************************************************************
DIABETIC: 1 Starch, 1/2 Protein, 1/2 Vegetable
"Cooking Healthy with Splenda, pg. 59."